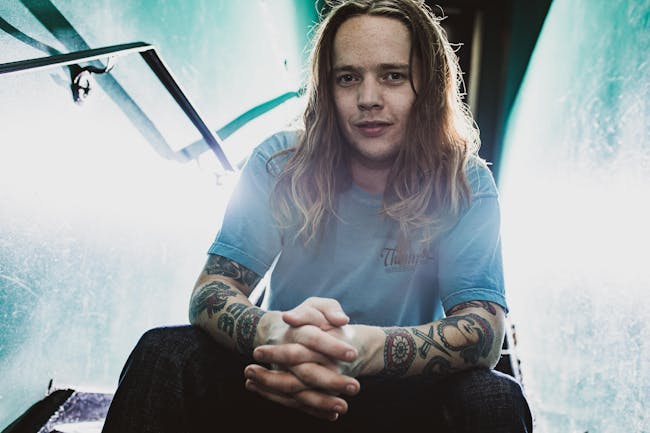 Roxian Live & Grey Area Productions present
Billy Strings: Night 1
Molly Tuttle
Roxian Theatre
This event is all ages.
***Pittsburgh: We regret to inform you that Billy Strings (Two Nights) at Roxian Theatre on April 8th & 9th has been postponed due to circumstances out of our control. The new scheduled dates are 10/27-28. Please hang on to your tickets, as they are still valid for the newly scheduled dates.***
Roxian Live and Grey Area Productions present
Billy Strings
Molly Tuttle
At Roxian Theatre
425 Chartiers Ave, McKees Rocks, PA 15136
Two Day Passes Available Here: http://bit.ly/BSrox2night
Tuesday, October 27th, 2020 | 7pm Doors, 8pm Music -
Wednesday, October 28th, 2020 | 7pm Doors, 8pm Music
Thursday Night Only Tickets Available Here: http://bit.ly/BSrox2
Purchase your tickets to Billy Strings today!
Billy Strings has been hailed as the future of bluegrass, transcending tradition and genre with his high velocity, flat-picking guitar technique and intense, confessional songwriting. HOME, Strings' remarkable second studio album, is undoubtedly the Michigan-born, Nashville-based artist's bravest excursion thus far, completely rewiring bluegrass with elements of punk, country, folk rock, and genuine psychedelic exploration to fashion something altogether his own. Strings has infused the aesthetic with his own experiences and inspirations, adopting traditional sonic and lyrical idioms to confront contemporary social truths. With guest appearances from the likes of Jerry Douglas and Molly Tuttle and produced by Glenn Brown (Greensky Bluegrass, Marcus Miller), HOME marks a landmark on Billy Strings' ongoing creative journey, its fearless songs and freewheeling approach recasting string-based American music in his own inimitable image.
Purchase your tickets to Billy Strings on 12/11 @ Noon!
MOLLY TUTTLE When You're Ready

A virtuosic, award-winning guitarist with a gift for insightful songwriting, Molly Tuttle evolves her signature sound with boundary-breaking songs on her compelling debut album, When You're Ready. Already crowned "Instrumentalist of the Year" at the 2018 Americana Music Awards on the strength of her EP, Tuttle has broken boundaries and garnered the respect of her peers, winning fans for her incredible flatpicking guitar technique and confessional songwriting. Graced with a clear, true voice and a keen melodic sense, the 26-year-old seems poised for a long and exciting career. When You're Ready, produced by Ryan Hewitt (The Avett Brothers, The Lumineers) showcases her astonishing range and versatility and shows that she is more than simply an Americana artist.

Since moving to Nashville in 2015, the native Californian has been welcomed into folk music, bluegrass, Americana, and traditional country communities – even as When You're Ready stretches the boundaries of those genres. Over the past year, Molly has continued to accumulate accolades, winning Folk Alliance International's honor for Song of the Year for "You Didn't Call My Name" and taking home her second trophy for the International Bluegrass Music Association's Guitar Player of the Year (the first woman in the history of the IBMA to win that honor).

"I love so many types of music," she says "and it's exciting to be a part of and embraced by different musical worlds, but when I'm creating I don't think about genres or how it will fit into any particular format – it's just music."

When You're Ready is infused with an intoxicating wash of drums and electric guitar while still keeping Tuttle front and center. "I wanted to keep the focus on the songs," she says, "but also make an interesting guitar record."

The album opens with "Million Miles," a song that her songwriting collaborator Steve Poltz brought to her, mentioning that he and Jewel started it in the '90s and didn't complete it. With their blessing, she finished the song and enlisted Sierra Hull to play mandolin and Jason Isbell to sing background vocals. The wistful track sets the tone for an album that offers subtle moments of reflection as well as dazzling musicianship.

Tuttle wrote or co-wrote all 11 tracks since moving to Nashville, giving the project a unified feeling. "A lot of the songs are more personal than I've written before, and many of them are conversational, like one person talking to another," she says. But, when it comes to the messages of the songs, each one stands apart. "Take the Journey" provides encouragement, even as "The High Road" finds two individuals going their own way. Later, the subdued "Don't Let Go" concludes with a spaced-out slow groove, while "Lights Came On (Power Went Out)" amplifies the album's youthful energy. "Sleepwalking," a gentle love song, may be the album's most impassioned and emotionally intense moment.

Tuttle grew up in California in a musical family, performing at festivals with her father and two brothers. As a young girl, she took violin lessons but eventually grew more interested in playing guitar. Fortunately her father Jack Tuttle is a noted instructor in the Bay Area. "My dad brought me home a little guitar and he would sit with me whenever I wanted to play it and show me something," she recalls. "He was really encouraging, and I think that's what made me stick with the guitar. I liked having a fun thing to do with my dad and practicing didn't feel like a chore."

By the age of 11, Tuttle was attending bluegrass jams and decided that she wanted to do more singing. She took voice lessons from one of her neighbors, a classical vocal coach who taught proper technique without sacrificing phrasing. As a young woman interested in bluegrass, Tuttle admired bold songwriters like Hazel Dickens and looked up to Bay Area bluegrass musicians such as Laurie Lewis and Kathy Kallick.

As Tuttle matured, her musical tastes soon ranged from Bob Dylan and Gillian Welch to The Smiths and Neko Case. Because she kept seeing Townes Van Zandt referenced to by songwriters she admired, Tuttle dug into his catalog and found "White Freightliner Blues." Her own exceptional rendition has become a showcase for her nimble playing, as well as a graceful nod to her musical heroes. And the circle continues; her own instructional videos of the song online have been discovered by the next generation of pickers, who look to her as a role model and for inspiration.

"I love seeing any young person trying to play one of my songs or just learning something from me," she says. "One of my goals is to inspire the next generation, especially young girls, to play guitar. I think if girls see a woman doing something, it helps them think, 'I can do that, too.'"

After graduating from high school in Palo Alto, Tuttle enrolled in Berklee College of Music in Boston, where she studied in the American Roots Music Program, focusing on guitar performance and songwriting. "In my time at Berklee," she says, I developed much better understanding the fingerboard, so that gave me the freedom to play more of what I heard in my head and to try to play something that was meaningful to me."

That sense of freedom and accomplishment carried over to making When You're Ready, which conveys a true progression of her distinctive talent and musical ambition.

"This album feels like more of a collaboration with new people I've met since moving to Nashville, which is really cool," she says.

www.mollytuttlemusic.com

Venue Information:
Roxian Theatre
425 Chartiers Ave.
McKees Rocks, PA, 15136